---
Quality Management System
With a view to ensuring high quality and reliability standards for all products and processes, LG Energy Solution has put in place a quality management system across all facilities certified with IATF 16949:2016 Automotive Quality Management System and ISO 9001:2015 Quality Management System standards. We intend to maintain the effective operations of such a quality management system through a continued process of 1) developing and implementing quality management programs, 2) evaluating, at least annually, the progress against targets, and 3) enhancing internal standards and processes based on the findings from the regular evaluation and stakeholder feedback.
Status of Certifications Acquired
At LG Energy Solution, the headquarters, manufacturing plants and R&D centers are certified with IATF 16949:2016 Automotive Quality Management System and ISO 9001:2015 Quality Management System standards. As part of certification process, we conduct third-party audits of quality management system, including surveillance or maintenance audits and re-certification audits. Further, we conduct internal audits, annually, to ensure facility-level compliance with company-wide regulations and standards and continuous improvement, thereby exceeding stakeholder expectations.
Korea
Headquarters
R&D Campus Daejeon
R&D Campus Gwacheon
Ochang Energy Plant
Ochang Energy Plant2
IATF 16949
ISO 9001
IATF 16949
ISO 9001
IATF 16949
ISO 9001
IATF 16949
ISO 9001
IATF 16949
ISO 9001
China
Poland
USA
LG Energy Solution (Nanjing) Co., Ltd.
LG Energy Solution
Battery
(Nanjing) Co., Ltd.
LG Energy Solution
Technology
(Nanjing) Co., Ltd.
LG Energy Solution Wroclaw sp. z o.o.
LG Energy Solution Michigan, Inc.
IATF 16949
ISO 9001
IATF 16949
IATF 16949
IATF 16949
ISO 9001
IATF 16949
Quality Risk Management
LG Energy Solution operates a company-wide risk management system to identify, prevent, and effectively respond to potential risks in various aspects of business. Based on the system, a contingency plan and business continuity plan is put in place to ensure the delivery of high-quality products and services in a timely manner. Any issue related to product quality and safety, one of core risk areas, is dealt with in accordance with protocols and procedures defined for types of issues.
Quality Management Process
LG Energy Solution's quality management is integrated in different stages of product lifecycle and based on a quality control and assurance process against internally developed standards that go above and beyond international standards.
Customer-Oriented Quality Management Process
Development
At the product development stage, LG Energy Solution follows a rigorous 'Product Quality Planning Process' to ensure the design of products meets customers' quality requirements and international standards. With in-house capacity to test product performance, safety, reliability from the design to materials & parts approval phases, we identify and mitigate potential or emerging quality and safety concerns in a preemptive manner. Each of newly developed products, before mass production, should undergo relevant international certification process.
Production
At LG Energy Solution, we maintain strict quality control measures throughout the production process, conducting thorough inspections of all parts and products at each step. We have put in place various risk mitigation process such as dual sourcing, to mitigate potential risks caused by unexpected changes in the project volume and/or in supply chains.
Capacity Building in Quality Management
At LG Energy Solution Battery Academy (LBA), we offer a comprehensive training and development program designed to enhance employee skills and capabilities in their respective roles. Our quality managers are regularly provided with specialized training in various quality-related areas, including quality management, product safety, reliability & statistics, and relevant global regulations. The training courses are complemented with on-site hands-on training and education to further enhance their understanding and capability in quality management. Further, to promote awareness and foster a culture of quality assurance in each member's daily work, all employees are offered with Compliance Training Programs, including a 'Quality Assurance for Customer Satisfaction and Quality Mindset' course which is mandatory for all employees and is conducted twice a year.
Supplier Quality Management
LG Energy Solution's quality management integrates a systematic supplier quality management, which aims to ensure consistency and stability in quality and continuous improvement of suppliers' capability in quality assurance and control. Through a 'Supplier Quality Management System,' we monitor real-time data on various indicators of suppliers quality and carry out product reliability risk management.
Supplier Quality Assurance System
LG Energy Solution operates a comprehensive 'Supplier Quality Assurance System' that regularly assesses the quality management level of all our suppliers. Key assessment criteria includes customer requirements and global standards, and the scope of assessment is suppliers' quality management systems and processes. The assessment framework is regularly reviewed and updated to ensure that our products meet the expectations from our global customers. In addition to the regular assessments, we conduct ad-hoc evaluations of our suppliers' quality assurance capacity and quality improvement programs. This approach enables us to continuously strengthen our 'Supplier Quality Assurance System' and ensure that our products consistently meet the highest standards of quality and reliability.
SQ Rank & Rank Up Program
With a view to achieving the highest level of product quality and safety, it is essential to manage and support suppliers' quality management capacity. To that end, LG Energy Solution operates a 'Supplier Quality Rank & Rank Up Program.' It involves an annual ranking of critical Tier-1 suppliers based on a comprehensive assessment of their quality management systems, performance and preventive quality management; and rollout of programs for suppliers to rank up their capabilities. The rank up program is tailored for each supplier to address weaknesses and improvement areas.
Rank Up Programs
Quality System/Process Improvement

Manufacturing Process Management System Improvement

Lean Six Sigma based Chronic Defect Improvement
Supplier Capacity Building Initiatives
SQM Academy
LG Energy Solution provides a quality management training program, called SQM Academy, annually for our suppliers. Our program offers a range of courses designed to equip our partners with the necessary skills and knowledge to secure global competitiveness in quality. The SQM Academy is open to all quality managers who wish to attend.
Examples of Courses
SPC(Statistical Process Control), PFMEA(Process Failure Mode & Effects Analysis), Firewall, Initial Stabilization, 4M Process, Run@Rate Audit, Audit(SSQ), PPAP(Production Parts Approval Process), 8D Report, SQ Rank
Supplier Quality
Conference
LG Energy Solution strengthens its collaborative relationship with suppliers by hosting a 'Supplier Quality Conference.' Through this conference, we exchange information on the current state of materials & parts quality, quality management policies, and introduce best cases of improvement programs. The information and discussions held in the conference provide a solid basis for the design and improvement of our supplier capacity building initiatives.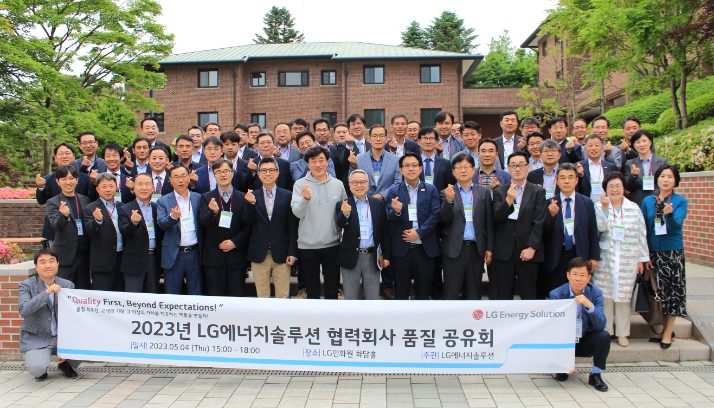 Sub-supplier
Qualification Program
LG Energy Solution operates a Sub-supplier Qualification (SSQ) Program aimed at supporting the quality improvement of upstream suppliers by enhancing supplier quality management capacity of Tier-1 suppliers. The SSQ program fosters quality auditors from Tier-1 suppliers and grants them qualifications to evaluate and improve the quality management systems of their suppliers, who are sub-suppliers of LG Energy Solution. Through this system, we strive to secure quality from upstream suppliers in collaboration with our Tier-1 suppliers.