---
Eco-Product Solution Partner
Customer Value Enhancement, Respond to the Global Market (New Business Opportunities)
Eco-product Solution Partner [Eco=Ecology+Economy] : This term refers to providing business divisions and stakeholders with solutions which are effective and valuable in terms of the environment and the economy over the entire product lifecycle from R&D to disposal.
Mission
Make All Products Into Eco-Products
Core Tasks
01
Product Stewardship
---
Establish eco-product policy
Define work procedures
Comply with laws and regulations
Meet customer requirements
02
Product Safety
---
Issue MSDS
Assess risks
Assess hazards
---
03
Advocacy
---
Respond to new laws
Respond to NGOs
Respond to government authorities
04
Regulatory Affairs
---
Monitor laws and regulations
Audit regulator compliance
Respond to regulatory bodies
Eco-Product Development
As a company that produces and supplies globally the materials and products that are necessary for modern industries to develop and people's convenience, we have a great responsibility for the impact that our products have on the environment and the health. Therefore, we always contemplate on how to reduce the negative impact when it does exist. As a preliminary step, we focus on reducing or removing the harmful substances included in our products. We are currently managing the content (%) of such substances to maintain these below the permitted level as set by Korea and other countries in order to minimize the products' negative impact on environment and health. On top of that, we are working hard to increase the proportion of eco-products in our product portfolio (e.g. green energy and next-generation cutting edge materials) by developing new future-oriented technologies.
Efforts to Manage Harmful Substances
01

LG Energy Solution thoroughly checks the management of materials based on our environmental product management practices for every product that we produce from raw materials. Depending on the severity of the risk, we divide all the harmful substances into three categories. We have tweaked the system so that no material can be purchased until after it has gone through this management verification process.

02

Using our system, all verification tasks pertaining to materials suspected of being highly dangerous and the EU REACH processing specifications are done electronically so that after they have been reviewed, the results can be checked online and a compliance certificate following a set legal format can be immediately received by our client.

03

Since 2010, information on the composition of products has been integrated into the ERP's BOS (Bill of Substance) module. Thus, the presence or amount of harmful substances in the products manufactured and/or sold can be monitored in real time and checked at the request of customers.

04

The receipts of an MSDS for all materials purchased from suppliers are checked, and exceptional cases are also recorded in detail via the electronic approval system. Therefore, it is possible to collect and store the MSDS for all materials electronically, which enables to identify the hazards and risks of each material.
Reusing and Recycling Batteries
With the rapid growth of the electric vehicle market, it is expected that approximately 90 GWh of waste batteries will be generated worldwide by 2030.
To prevent environmental pollution and utilize waste batteries for upholding sustainable values, we are building a reprocessing system that encompasses the procurement of raw materials, production, consumption, and disposal of batteries, as well as the overall social values involved in the process.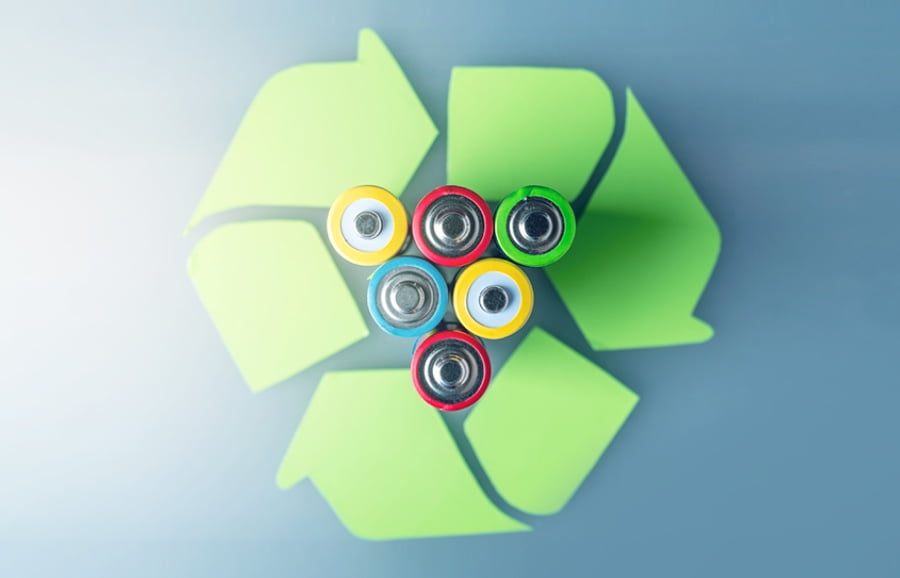 Creating a recycling system for waste batteries
01
LG Energy Solution plans to build closed loop systems for batteries centering around regional production plants, which recycle waste batteries as raw materials for new batteries.
02
Lithium-ion batteries installed in electric vehicles have high energy density, so they can be reused in other fields even after their performance deteriorates.
After reusing waste batteries, they can be recycled by disassembling them and extracting rare metals such as lithium, cobalt, nickel, and manganese.
03
LG Energy Solution will continue to develop business models and applicable technologies for utilizing batteries that have reached the end of their lifespan as a power source for electric vehicles. To accurately evaluate the residual value of batteries after use, we are developing a method to predict battery life. We are also collaborating with various related organizations to discover the ideal business model for utilizing waste batteries. Moreover, we are establishing cooperative models with major automakers to obtain a stable supply of waste batteries and recycle them in the future.
04
LG Energy Solution is developing a closed loop system in which batteries that can no longer be used after being reused are recycled as raw materials for battery production through disassembly, refining, and smelting.
05
LG Energy Solution is in the initial stage of a project that collects scraps generated in the electrode process of battery production and recycling them into raw materials for batteries. To establish local closed loops for each production region in Korea and abroad, we are creating a structure where we select a local recycling company and they reprocess and supply raw materials to us. We aim to establish these closed loop systems in China in 2020, Korea and Europe in 2021, and US factories in 2022.